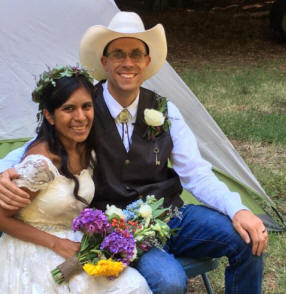 Glorianna and Daniel Adams right after their wedding.
Daniel & Glory's Wedding
At Redwood camp meeting in 2016
Daniel's Bolivia Video Reports
Flying the mission plane & more

Familia Feliz Bolivia Info
Where Daniel served
Daniel Volunteering in Bolivia
Familia Feliz Orphanage, Red ADVenir TV, Bolivia Aviation
Daniel's YouTube Videos
Short video updates about mission life & activities
Stonedoor Campout
Daniel & friends enjoy an awesome weekend in Tennessee's most scenic areas exploring waterfalls, scaling cliffs & more.
Of Campfires, Cliffs and Creation
Emily Caza's perspectives about this unforgettable weekend
Venezuela 2007 Adventures
Flying a Russian AN-2 biplane, remote village expeditions, getting kicked out of the country
A Bunch of Adventures after Venezuela 2006
Canoeing, Leoni Meadows campout, 21st birthday party, SCUBA diving, Mission Pilot training, GYC & more!
Daniel in Venezuela 2006
Mission plane flights, dugout canoe medical trip, Angel Falls, Mt. Roraima climb & more
Interesting and Useful Links
Mission projects, stories, resources & information


Driving up a Cliff . . .
Daniel takes his parents on a wild ride while learning to drive.

DayStar Academy Graduation
Done cowboy style in May, 2005 at Castle Valley, Utah.
Daniel's Life Slideshow (57 MB PPS)
An overview from birth to age 20 shown at graduation in 2005

LaSal Rappelling Fun
Kids and grownups go down a 70' cliff in Utah.

Climbing Parriott Mesa
Diana "hangs" onto an 800' cliff without a safety rope!

Flight Training Adventures
. . . also summer activities, hurricane relief & future dreams.

Daniel Flies Solo!
On October 18, 2005 after 10 weeks of training.
Control Tower Interchanges
Kinda scary landing alone between huge airliners.

It's Official - Pilot's License!
December 12, 2005 - and he barely made it too!
News Update December 2005
Sometimes Daniel actually writes! (rarely)
News update May 2006
What Daniel was up to . . .
Camden, ME Podcast Slides
A boring mission sermon on 8/26/06 by Daniel in Maine.
Home Here video & music
A homeschooling song featuring Daniel,
written and sung by our friend Marla King

Daniel's Future Wife . . .
Daniel's former perspectives on courtship & marriage