Of Campfires, Cliffs, and Creation
South Cumberland State Park, TN
By Emily Caza, Nursing student at Collegedale, TN
September 14-16, 2007
Rain splattered on the windshield as Ashley, Daniel, and I pulled out to go camping at Stone Cave. Mark and Julie Devlin had promised to show up later on that evening after they got off work and packed, everybody else had washed out because of the rain . . . (sorry I know that's korny).
Stone Cave has to be one of the prettiest places in Tennessee. Even when it was drenched in rain and soaked in mud it had a charm. The campsites were set apart from each other in the woods so it actually felt like being in nature and not a tent city.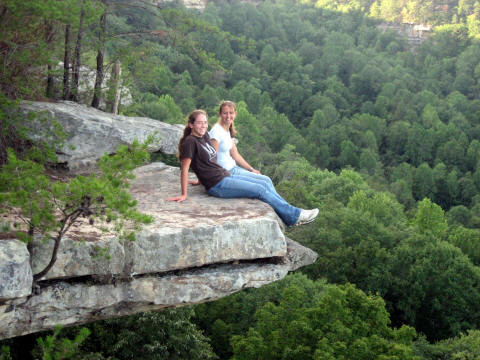 We packed our stuff about 1/4 mile and then decided to hike out to the bluff since the Devlins still hadn't arrived. By this time the rain had stopped and so we all sat on the bluff and just talked and relaxed.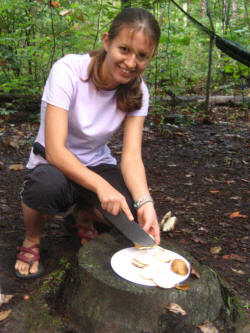 We hiked back to discover the Devlins still hadn't arrived. So we ate supper and still they tarried. By 9:30 pm we decided to hike out to the car and drive to cell phone reception so we could know what was going on.
As we pulled out of the main parking lot Daniel casually asked God to please send them like now. Within about 15 seconds they showed up. Nice. :)
The next day we hiked out to a waterfall. We swam, read a chapter from the Bible and then discussed some different things that stood out to us, and climbed around. Again we were just about the only people there.
Later that day we headed out to the bluff near our campsite. (The actual Stone Door). A 100 foot cliff made it feel almost like we were back in Utah. ahhh... :) Nobody else could be convinced to join us so Daniel and I headed out to explore the great ledges and crevices. Then we discovered a 50 foot vertical crack in the rock that went straight to the top.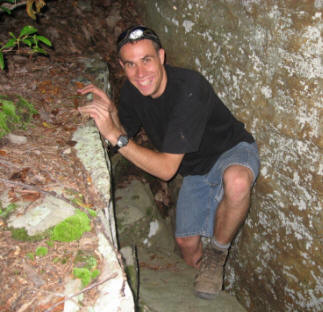 Our adrenaline enthusiast side took control and we climbed to the top (okay, so it probably didn't have to "take" control... it basically always has control in the first place but why did I admit this?) It was so much fun. Like to actually get to really truly CLIMB! Ahhh...
Unfortunately, we had to depart the next morning. But getting to relax for 2 days was exactly what I needed after that week.
To be able to ignore my watch and do what I want, to not be jumping for a vibrating cell phone (ok, I do love my cell phone but it was good to have a break too), to be able to remember that I have an artistic and creative God who paints sunrises and sprinkles stars in the night sky, to slow down -- I think that's how God planned life to be.
Click here to see lots more awesome pictures and several video clips