Daniel's 21st Birthday
His first "Real" party!
June 4, 2006
All his life, Daniel has wanted to gather a big crowd of family & friends and have a fun time together.
Back in 2002, Daniel invited 50 people to celebrate by hiking to the river, playing games, eating good food and sitting around a huge bonfire. But nobody came! So he built his bonfire and sat alone until nearly midnight, watching it burn to a bed of coals, hoping maybe next year . . .
Four years later, his dream finally came true.

Signs along the 45-minute drive from Placerville to our remote home in Mosquito assured guests that they were on the right road.
By noon the cars began arriving - ages 6 to 86, and in all types of vehicles - from Charles Kelly's blue Mustang to Grandpa's 1928 Ford truck - with the modern Courier pickup bed on it!
Daniel was born in Mexico and he dearly loves the land where he spent the first 12 years of his life. So he naturally incorporated Mexican food and activities into the celebration.
The food included beans, tortilla chips and several choices of salsa, including an "Intense Heat" variety, accompanied by a warning sign!
The day was perfect, the shade felt good, and more friends continued arriving.
In fact, it was warm enough for a water balloon fight! Soon the balloons were flying back & forth between the younger generation.
And they began getting wet - in places.
Then some water guns appeared, and folks began getting wetter!
Daniel Barr found a bucket in the garage, and more water began to fly.
Now things began to get REALLY wild! Kids & grownups raced around, sneaking up behind unsuspecting victims.
Folks were getting thoroughly DRENCHED!
Grandma Shirley Lord cringes as water flies
her way!
Good thing it was
a warm day. These guys are totally wet. The van even got a bath!
Eventually things calmed down. Folks changed into dry clothes and went riding in Grandpa's old Ford truck.
Down a steep old logging trail they went, but the brakes weren't holding well with the big load.
So back up the hill came the old Ford, and off to some other off-road areas that weren't so steep.
Lindsey Hoyt and the others bounced all over the back of the truck as Grandpa Celian took them through thick brush, squeezed between giant oaks and then out onto smooth pavement - briefly. Then it was back onto more bouncy back roads through the family's 120 acres.
Next it was time for piņata fun!
What's this - The Little Mermaid?
Yep - the only halfway decent one
Daniel could find!
But with some creativity & duct tape, Daniel changed it to 21.
Starting with the youngest, the blind-folded kids swung this way and that.
Up & down, back & forth the piņata went as each youngster took a turn.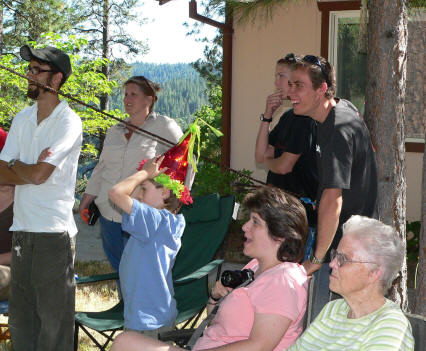 Daniel had a blast pulling the rope, keeping the piņata just out of reach of the wildly flailing stick. Other times he lowered it right in front of their faces, then jerked it away as they swung. The onlookers cheered and yelled out hints about how close they were.
After taking their turns, little Austin & Jimmy enjoyed sitting in the hammock to watch the excitement.
Whack! Lizzie knocked off one of the cones!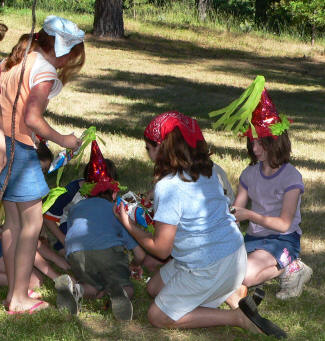 Eventually the entire piņata fell apart, spewing out HOT Mexican candy
and other goodies for the kids.
Evelyn & Cody discovered that the
cone made perfect party hats!
Other friends enjoyed sitting in the shade, watching the younger kids having fun.
Daniel thoroughly enjoyed sharing a special, fun day with his friends.
And he appreciates each one of them as well, keeping in touch
by phone and e-mail as he continues on to new adventures!