Mosquito Road's swinging bridge and notorious switchbacks - a love-hate relationship for some residents!
Mosquito Weather
From the Swansboro Airport
Mosquito Road Driving Etiquette
Ways to prevent accidents and drive friendly on our switchbacks and swinging bridge.
Former Chief Leo on the "Old Fire"
What it's really like to fight one of
southern California's summer infernos.

Former Chief Leo's Bear Encounter
A midnight visitor stops by our former Fire Chief's house for a take-out meal.
Frank's Diner
Right at Finnon Lake. The only place in Mosquito to get great food.
Mosquito Road Hwy 50 to Union Ridge
Union Ridge to Swinging Bridge
Swinging Bridge to Mosquito Cut-Off
Driving Around the Mosquito Loop
Mosquito Road as Driven by Locals
Mosquito Life, History
and Information
Mosquito, California is located NE across the
American River canyon from Placerville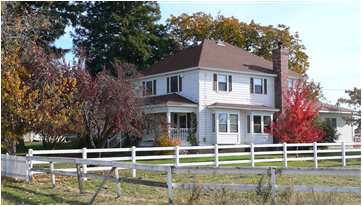 Mosquito History
Written by Lois Pearson, longtime resident
and matriarch of Mosquito.

1849 to the Present
More information about Mosquito,
by Mountain Democrat columnist Richard Hughey.
Mosquito Road in the 20's
Margaret Kelley's colorful description of Mosquito Road.
"You now come to the first hair-pin curve, whose turn bringsyou face to face with death if there's a single false move, a bursting of a tire, a slip of a brake, you are hurled into eternity."

Deer View Fact & Fiction
Eccentric A.P.T Elder dreamed of a resort to attract wealthy folks to this beautiful location. His unfinished Hotel Bret Harte collapsed before it was ever used. A forest towers over the stone ruins today.

Deer View Homeschool Adventure
Kids in a 1930 Model A Ford Roadster get a wild ride through giant puddles getting to Deer View, where they pick berries and explore what's left of this old resort beyond Slate Mtn., built in the 1920's.
Celian Adams Shares Deer View Memories