Meet the Adams Family
Born in Placerville, California, Fred spent much of his life in the mountains of Chiapas, south Mexico where his parents Celian & Betty Adams helped establish Colegio Linda Vista, a Seventh-day Adventist boarding school.
Freddie and his little sisters attended school with their Mexican friends, while their mom taught English and their dad brought produce from the city 3 hours away & helped with school improvements.
Summers were spent at their rustic home in Mosquito, California, where the entire family worked as a team logging from forests near their ranch. This provided income for the rest of the year spent in Mexico.
Fred got his B.S. degree in Industrial Arts at Pacific Union College, where he met his wife Diana. Together they returned to Linda Vista to serve as overseas missionaries. Their son Daniel was born at nearby Yerba Buena Hospital, and grew up playing with his Mexican friends, just like his dad.
Fred became a quadriplegic in 1987 during a construction accident at Linda Vista. After spending a year at Loma Linda, California, his family returned to serve another nine years in Chiapas, where Fred taught Computer Science and assisted with school industries. He also monitored educational and evangelistic activities sponsored through Mission Projects, Inc.
Due to work overload and political instability, the Adams family moved back to California in 1997. Fred continues to monitor mission projects in Mexico. He's also organized several mission trips to Mexico, leading caravans of volunteers to remote mountain villages needing classrooms, churches and medical attention. And he's always looking for new adventure!
Diana grew up in the Bay Area, attended PUC, and majored in Home Economics, since she wanted to be a housewife (or homemaker, to be politically correct!). She learned to play the flute and enjoyed working with animals - she worked at the dairy feeding, milking and cleaning up cow messes at PUC.
When she first met Fred at college, she wasn't interested in him at all. So she asked her dorm dean how to get rid of him. Mrs. Pluhuvoy's advice wasn't very helpful, because Diana ended up marrying Fred on August 16, 1981. They've been VERY happily married ever since!
Diana took well to life in the mission field, but after Fred became paralyzed and their energetic son sapped all her energy, she was happy to settle down in the U.S. She has a lot more energy after discovering she's had low thyroid all her life, and now takes medication for it. What a difference!
These days she enjoys experimenting in the kitchen, refining recipes to share at the monthly Vegan Cooking Class at the Camino SDA Church. She also likes to walk her dog to the mailbox every day (nearly a mile away), work in the garden, and hear from Daniel & Glory as they run here and there. She spent 7 years as a Creative Memories consultant, helping people preserve their photos in attractive scrapbook albums.
Daniel was born at Yerba Buena - a small mission hospital in Chiapas, Mexico on June 4, 1985. Having spent most of his childhood in Mexico, that's always felt like "home" to him. He speaks Spanish fluently, is very social and has always been high-energy!
We homeschooled him through most of his elementary school years. He also spent two years in Camden, Maine with his cousins, where he graduated from 8th grade. Being the only graduate, he celebrated by having his friends over for a big bonfire!
Back in California, he studied two years at Weimar Academy, then attended DayStar Academy in Castle Valley, Utah where he graduated on May 29, 2005. That was an ideal place for Daniel to study, as their work-study program also involves many activities - community outreach, hiking, camping, rappelling, mountain biking, snowboarding and mission trips. Being academically challenged, Daniel found all this activity made schoolwork more tolerable. Everywhere Daniel goes, he makes friends, and keeps in touch with many of them by online chat and the latest Android smartphone.
After 5 months of working and flight training in northern Maine, Daniel was delighted to get his Private Pilot's License on December 12, 2005.
Daniel has liked airplanes and flying all his life, and his dream was to eventually serve as a mission pilot in South America. However, the reality of the cost of flying, plus the long boring hours flying over swamps and jungles led him to spend more time working with young people and other pursuits.
From January to April 2006, Daniel served as a volunteer at the Adventist Medical Aviation base in Maurak, Venezuela. He wasn't qualified to fly the mission plane by himself - he needed hundreds of flight hours and further training to do that!
Back in the U.S., he worked to finance further flight training and build up flight hours. He hoped to get his Instrument and Commercial ratings by the end of 2006. But he ended up getting training in being patient & waiting on the Lord.
In June of 2006 he went to Florida and got 3 SCUBA certifications - and had a blast! He loved exploring sunken ships, stroking sharks and viewing all the other colorful sea creatures up close! Then he continued his pilot training at Collegedale, Tennessee.
He spent a couple weeks in January, 2007 at home in California, then flew to Florida where he spent two weeks with the Union College International Rescue & Relief (IRR) group. They trained in Ocean Survival & Deep Water Rescue, helped the tornado victims in central Florida, then in February the group flew to Venezuela. Daniel translated, helped in the kitchen and learned more about jungle medicine until April.
He continued his flight training in Collegedale, Tennessee and after much persistence, completed his Instrument rating. On February 3, 2008 Daniel went to Bolivia, where he volunteered at the Familia Feliz orphanage for about 6 months. He also helped at Red ADVenir satellite TV network translating, editing and served as Assistant Programming Director. He flew the mission plane throughout the eastern Bolivia lowlands. You can see his video reports on YouTube. In 2012 he returned to the U.S., promoting missions and working with young people. When you visit with him, it doesn't take long to see that he has a passion for people!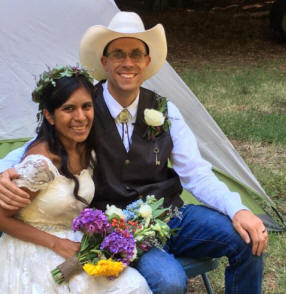 On July 29, 2016, Daniel married Glorianna Mae Dowswell at Redwood Camp Meeting near Redcrest in Northern California. Neither we nor they know what they will be doing or where they will be living in the years ahead, as Daniel is quite a vagabond, moving from one project to another as doors open up for work and service opportunities. And Glory is happy to trail along with him, working at his side as they enjoy each other's companionship.
Their boys Wyatt and Weston keep their parents busy as they teach them about life and about Jesus too.