Homeschool Field Trip Adventures at Deer View
Page 3
The morning raced by quickly, and soon it was lunchtime. We spread out on a flat place above the retaining walls behind where Hotel Bret Harte once stood. The temperature was perfect, there were no mosquitoes, and the forest was so peaceful. Homemade bread and garden tomatoes made our picnic lunch very enjoyable.
Alyssa discovered a fascinating white caterpillar with long hairs, so she brought it for her mom to see. The rest of us had to check it out as well.
The hairs were not the stinging type, so nobody had any unpleasant surprises!
After lunch, my dad Buck Adams described what Deer View Lodge looked like in the late 1930's when he delivered corn, beans, squash, eggs and other goods from his parents' farm in Mosquito, six miles away. He vividly remembers the large wall murals, depicting scenes of the American River, panoramas of the Sierras, views from atop nearby Slate Mountain, and other interesting sights. The artist spent several years doing his skillful work, and my dad felt really bad when the lodge was eventually abandoned and left to collapse.
Retaining walls behind Deer View Lodge and Hotel Bret Harte are still in fairly good condition, though huge trees along the top could eventually cause them to collapse.
Several stone rooms were used as cold storage areas and wine cellars.
These foundation columns are all that remain from the front view of what was once the grand, four-story, 250-room Hotel Bret Harte. Wealthy businessman A.P.T. Elder passed away in 1924, leaving the nearly-completed building to heirs back east who had no interest in the resort. Within 14 years, the hotel collapsed after a heavy snowstorm.
Mackenzie, Spencer and Cody explore one of the stone cold storage rooms, located behind Deer View Lodge.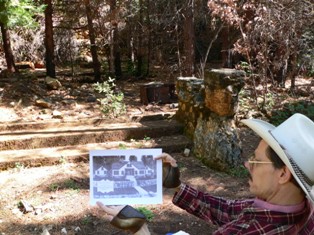 Deer View Lodge continued to be used as a place for hunters to stay, but it too eventually collapsed.
I'm parked near the front steps, holding a photo showing what the lodge, stone walls and stairs looked like 70 years ago.
All too soon it was time to leave, so we went down to the lower level, where the old road curved around the resort toward the pear orchard.
Cody and Alyssa had fun exploring the only remaining fireplace chimney, located near the lower road where a guest cabin once stood.
We picked up several buckets of fallen pears - sweet, juicy and totally organic - on our way back to the cars.
As I drove my van back through the deep mud puddle described on page 1, I didn't have enough momentum. Just a foot or two from the other side, my wheels started spinning. Fortunately, my dad had a chain in his Model A, and Jackie pulled me out with her Jeep. We made it back out through all the other puddles with no problems.
What a special day we had! The kids had fun riding in the Roadster, my dad enjoyed driving them, and Naturalist Jim made himself useful wherever needed & taught us about nature, and my wife Diana got better acquainted with the ladies while picking berries. I think everyone got about six baskets apiece. The kids seemed to be eating all the berries they picked!
Diana and Jim kept busy taking pictures - that's why they're rarely seen in this adventure. And as a quadriplegic, I always enjoy a good excuse to get out of the house and be involved in some kind of adventure. I'm very grateful to God and to modern technology that enables me to do these kinds of things!
Jackie, Robin and Sheryl had a great time as well - they often do homeschool field trips together, and we have several more lined up for them in the near future!
Click on Mackenzie's and Cody's photos to read their Deer View Field Trip Reports.
If you're interested in reading more about Deer View, click on the appropriate links at the bottom of this page.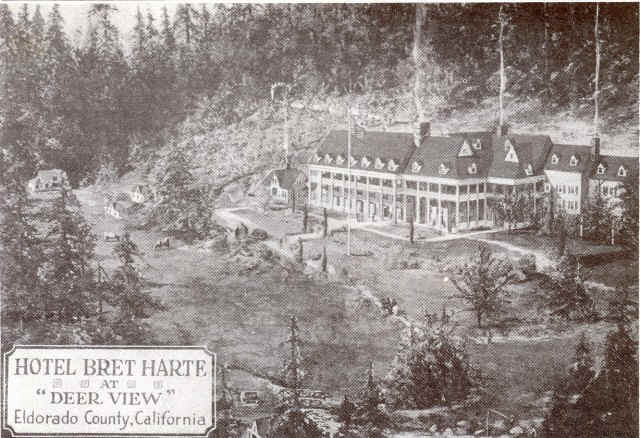 A "Bird's-Eye View" of Deer View Resort, a cherished dream unfinished by A.P.T. Elder's death.
<<< Previous 1 2 3
"Getting There Was Half the Fun"
Fact and Fiction About Deer View
Back to Adams Family Activities Links